Flooded Timber Hunts in Missouri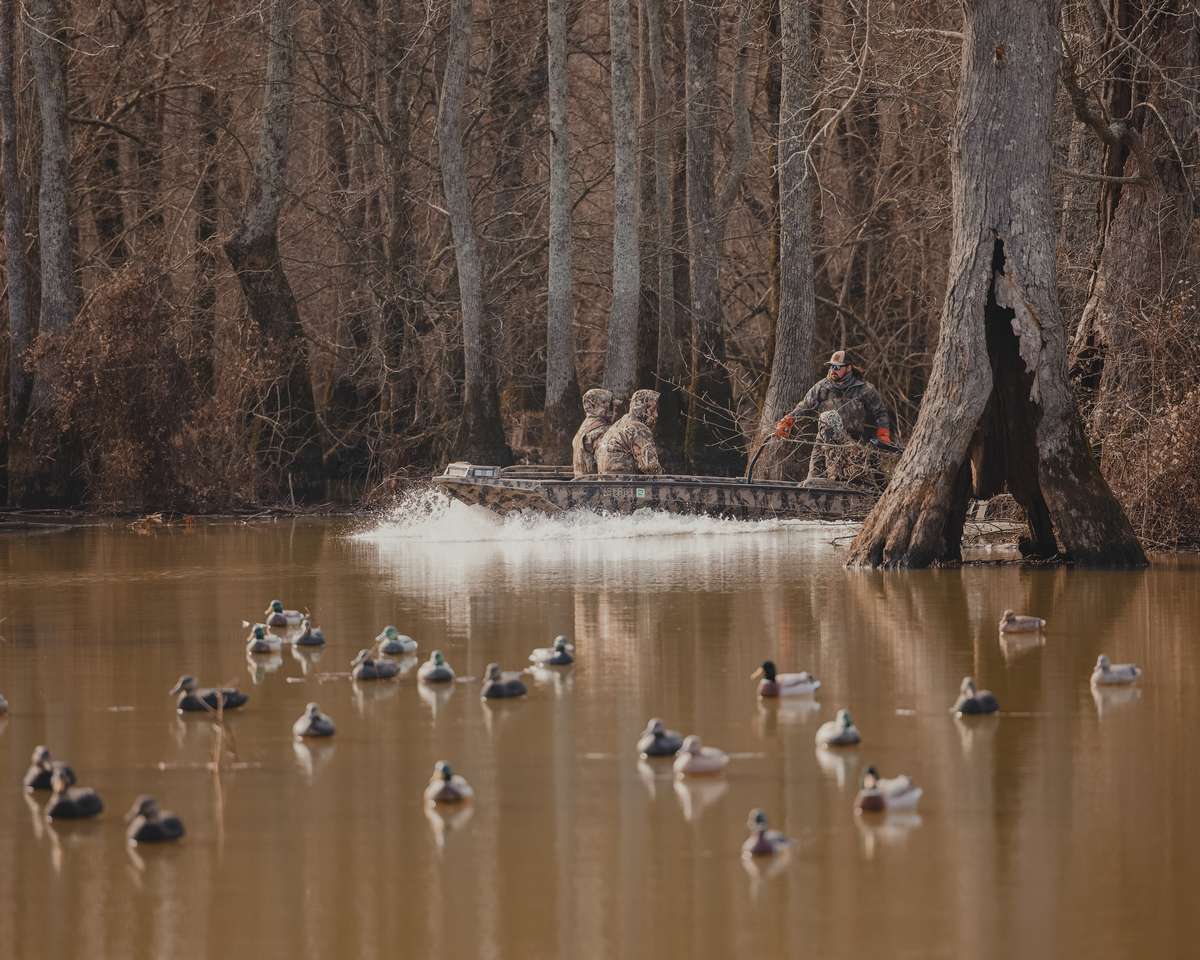 What is a Flooded Timber Hunt?
$1800 All Inclusive 3 Day Package ensures your hunt with us in the Timber!
Many think Arkansas is the only place to hunt mallards in the flooded timber. Well, they would be WRONG. Our Missouri timber hunts at Treasure Island can be some of the best mallard hunting in the country. At Treasure Island Outfitters we manage our timber hunting farm to hold and attract thousands of mallards in order to ensure our hunters' success. We have large rest areas and leave plenty of food to entice ducks to stay on our properties for the whole season.
When hunting flooded timber with Treasure Island Outfitters, you will be hunting in seasonally flooded buckbrush/scrub swamps as well as some bottomland hardwoods. Most of our timber hunting is made up of cypress swamps and willow flats. While it may not be the same sight as an Arkansas Greentree Reservoir, you can bet it is still a sight you want to see! Being in such close proximity to the Big Lake National Wildlife Refuge, we have an abundance of opportunities to see thousands of migrating ducks each and every day which is why our timber duck hunts have become a hunter favorite. When the weather and conditions align, our flooded timber hunts are truly a one of a kind experience and one you will be sure to remember for many years to come.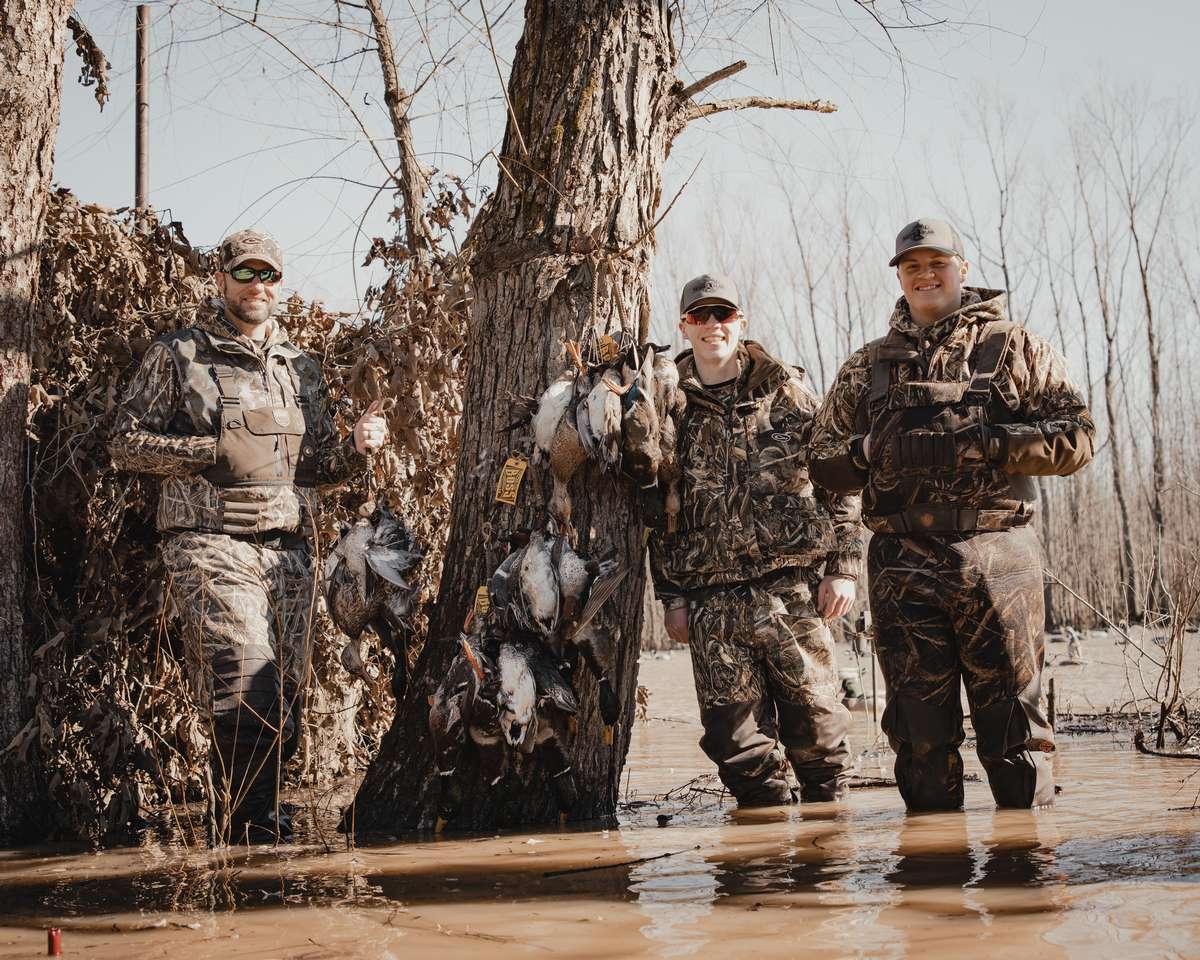 Flooded Timber Hunts with Treasure Island Outfitters
Our crew is made up of the finest waterfowl guides in the southeast. Our guys work tirelessly throughout the spring and summer months to get the farm ready so that you can enjoy some of the best timber hunting Southeast Missouri has to offer. Successful flooded timber hunts are all about the habitat and location. Lucky for us, we have both of those dialed in which means you can be sure you are hunting on some of the best farms in Southeast Missouri.
As said before, you won't quite be hugging a tree or kicking water like Arkansas style timber hunts are portrayed. On one of our flooded timber hunts at Treasure Island, you will be chauffeured right into one of our spacious, heated duck blinds to get ready for the morning hunt. You will be overlooking a large spread of Higdon decoys while waiting for the first flight. There is nothing else like being able to watch mallard ducks work through the trees and finish in such close proximity that it seems like you could just reach out and grab them. Watching one of our well trained retrievers navigate through the trees fetching the downed birds is worth the trip alone. Once you've experienced the thrill of dozens of mallards wizzing through the treetops, you will fully understand why our flooded timber hunts are a huge request of our repeat customers.

What is Included in the Flooded Timber Hunts?
As with all of our guided hunts, your flooded timber hunt will include:
Professional Guides
Extensive Decoy Spread
Transportation To & From The Blind
Breakfast, Plenty of Coffee, & Drinks of Your Choice
What to bring on a Flooded Timber Hunt?
Shotgun
Ammunition
Warm Clothes
Waders or Knee Boots
Face Mask
Best time of year to hunt the Flooded Timber
Duck Season Dates: November 23rd-26th, 2023 & December 7th-January 31st, 2024
While the best hunts can happen any time throughout the season our FLOODED TIMBER hunts tend to heat up after Christmas.